Embroidery can be easily placed on any products, such as polo, button-down, t-shirts, caps, jackets, towels, etc. The artwork is stitched onto fabric, creating authentic feel and look to the material.
There is an artwork/ setup fee on the first order of each design. Additional orders you only pay for the item being embroidered. Only if the logo changes would there be an additional charge after the first order. This allows out customers to see what the item really costs with no hidden charges.
We match thread colors on the logos to the color of the garment colors. We base our pricing on stitch count per item and location. Not colors of thread involved. Our machine can handle up to 15 different colors per logo. The more stitches the higher the price.
We also do contract embroidery where you supply the garment to us to place your logo on.
Embroidery machine: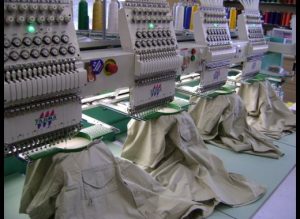 Examples of Embroidery works: